Machine - Education Bundle
Regular price
$10,368.00 AUD
Regular price
$10,816.00 AUD
Sale price
$10,368.00 AUD
Unit price
per
Sale
Sold out
Inspire and empower environmentally-aware minds whilst investigating creative solutions to reducing waste and exploring the concept of the Circular Economy! Designed specifically for application within education, this innovative small-scale recycling bundle will enhance STEM learning at your school through an experiential, hands-on and practical approach.
What you get:
• 1 x Benchtop Extruder
• 1 x Benchtop Shredder, Hopper & Stand
• 2 x product moulds (Carabiner, Pocket Comb, Tumbling Tower or Door Knob)
• FREE class set of Safety Goggles (30 pairs)
Valued at up to $10,670

Built to order. 
Specifications

Please refer to individual product listings for specifications.
Usage

The Benchtop Extruder has the ability to produce filament and small products, such as USB sticks and carabiners.

The Benchtop Shredder is ideal for usage with plastic materials no larger than a bottle top. Dependant on the plastic used, you can except an hourly output of 1-2kg.
Safety first!

The Benchtop Extruder was designed around the relevant series of safety standards, complying with AS/NZS 4024.1 Safety Of Machinery (this series covers everything from the general principles of safety or machinery to risk assessment guidance and methods, controls, guarding, ergonomics right through to anthropometric data) and AS/NZS 3820 Essential Requirements For Electrical Equipment. The product includes all appropriate power switches, guarding (such as protective covers over main heating areas) and warning labels.

The Benchtop Shredder includes all appropriate safety elements, including emergency stop, momentary switch, blade guards, on/off switch, speed control, reverse blade functionality and warning labels.

Please note: These machines are fitted with safety features, however it's important to understand that these machines are dangerous, and proper safety measures must be implemented.
Why buy from us?

Australian made: We build high quality machines fit for purpose and compliant with Australian Safety Standards.

Knowledge and support: Our machines are built by people who use them! And, if you do happen to need additional assistance, we offer post-purchase support - a pretty important factor when you're investing in equipment.
To order, please fill out the form below!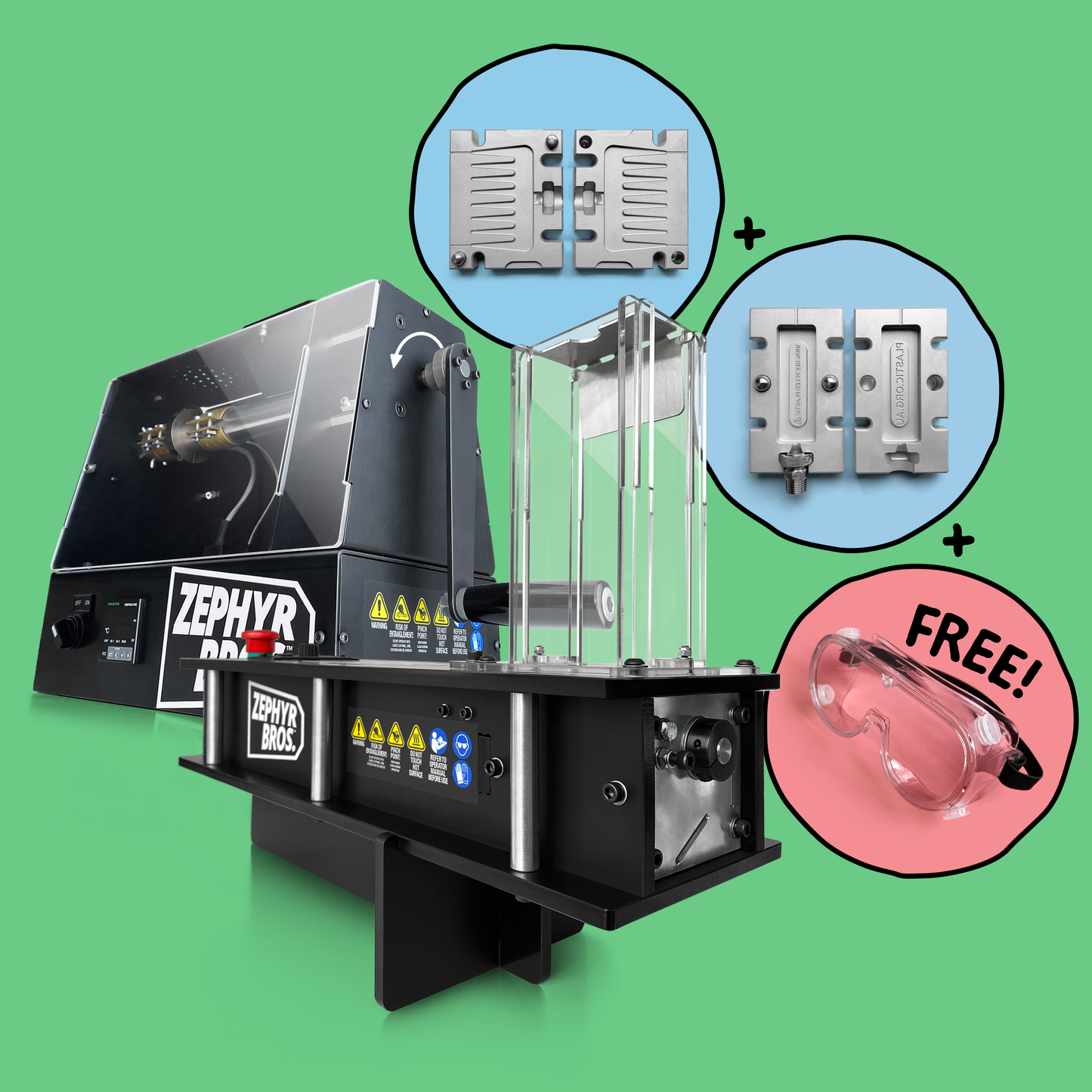 Post-purchase support available
Product Support Pages

Here you'll find everything you need to get started, from risk assessment templates to comprehensive troubleshooting guides.

Machine Training Session

We offer a complimentary training session for all new Zephyr Bros. machine purchases, available either onsite at PPM or online.

Handy Resources

From the basics of plastic through to safety and fumes, get started on your recycling journey with online and downloadable resources.
VICE | Precious Plastic Melbourne's Aussie Made Recycling Machines
Find our machines around Australia, and the globe